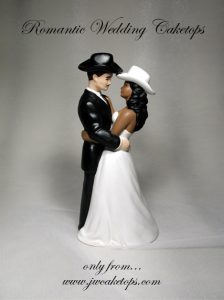 JW Cake tops provides many themed wedding cake toppers including Dancing and Kissing, Classic Romantic, Beach & Shore, to name a few. This topper features a Western Cowboy dancing with his lovely Cowgirl!  We provide your skin tones, hair and flower colors, facial hair and more.  Sure to be a big hit at your western themed celebration!
https://jwcaketops.com/western-cowboys-cowgirls/
Dance With Me Western Wedding Cake Topper" can be located in the "Western Cowboys & Cowgirls"  category.