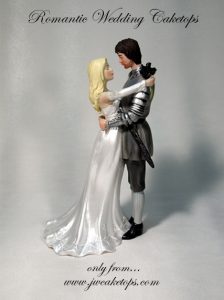 JW Cake tops offers many themes for your wedding including Classic, Romantic, Dancing, Kissing, Beach and Shore, Humorous, and so many more!  This Fantasy wedding cake topper features the bride embracing her Knight in his Shining Armor!  We provide skin tones, hair and flower colors, facial hair, attire colors, and more.  Sure to be the conversation of the Fantasy themed wedding!
https://jwcaketops.com/fantasy-famous-characters/
"Knight in Shining Armor Wedding Cake Topper" can be found in the "Fantasy & Famous Characters" category.