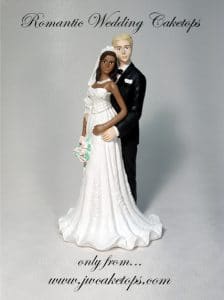 JW Cake Tops offers many romantic themed wedding cake toppers including classic, dancing, kissing, over the threshold, and more.  This classic "My Dream" Interracial couple displays your skin tones, hair and flower colors, and facial hair.  Bald grooms are also available on our customized cake toppers.  Sure to be the talk of the wedding!
https://jwcaketops.com/classic-romantic/
My Dream Interracial Wedding Cake Topper can be located in the "Classic Romantic"  category.