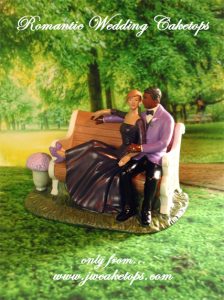 JW Cake tops provides many themed wedding toppers including Classic Romantic, Beach & Shore, Dancing, Kissing, Western, Humorous, Bald Grooms, Kilt & Celtic, Halloween, and more!  This stunning figurine features a couple relaxing together on a park bench. Personalized with their skin tones, hair and flower colors, and attire!  Sure to be the conversation at your wedding celebration!
https://jwcaketops.com/classic-romantic/
Sittin' on a Bench Wedding Cake Topper" can be located in the "Classic Romantic"  category.