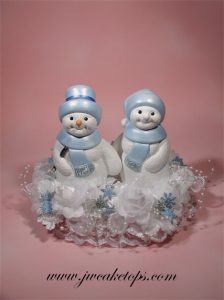 JW cake tops provides many different themed wedding cake tops such as Classic & Romantic, Dancing & Kissing, Fantasy & Famous Characters, and winter sports such as Ski & Snowboard, to name a few !  This topper features "Snow People" on a winter snowflakes floral base complete with your custom color scarves, hats and snowflakes !  Visit our collection for more wedding figurines that offer skin tones, hair and flower colors, bald, facial hair for grooms, and more !
https://jwcaketops.com/fantasy-famous-characters/
"Snow People Wedding Cake Topper" can be found in the "Fantasy & Famous Characters" category.