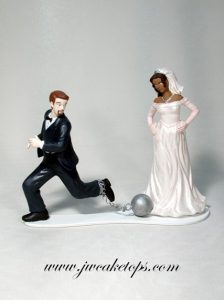 JW Cake Tops offers many humorous wedding cake toppers including reluctant, cold feet, runaway brides, and more! This topper features a groom tethered to a ball and chain, sure to be the talk of the wedding celebration! We customize skin tones, hair and flower colors, facial hair, and more!
"Ball and Chain Wedding Cake Top" can be found in the "Humorous & Reluctant" category.
For additional customizations such as Military, Firefighters, Nurse, Occupations, Stylized Long Hair, Colored Gowns, etc., please E-mail us.