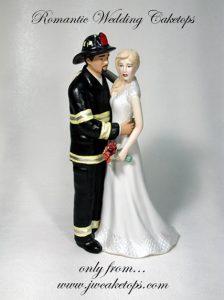 JW Caketops provides elegant wedding keepsakes!  Many themes are available for your wedding cake top including occupations, uniforms, hobbies and interests, to name a few. This couple features a firefighter groom in his black gear embracing his beautiful bride!  Your skin tones, hair and flower colors, facial hair, and more!  Sure to be admired by your guests at the wedding celebration!
https://jwcaketops.com/firefighters/
The Love's Embrace Interracial Firefighter Cake Top can be located in the "Firefighters"  category.