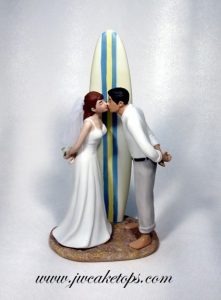 JW Cake tops provides many different themed wedding toppers including Kissing and Dancing, Classic Romantic, Sports, Beach and Shore, Western, Humorous or Reluctant, Halloween, and many more! This figurine features an interracial couple with bride and groom exchanging a kiss behind their surfboard!  We provide skin tones, hair and flower colors, facial hair, bald grooms, shoe colors and more. Sure to be the talk of your wedding celebration!
https://jwcaketops.com/beach-shore/
Summer Lovin' Surf Interracial Wedding Cake Topper can be located in the "Beach & Shore"  category.