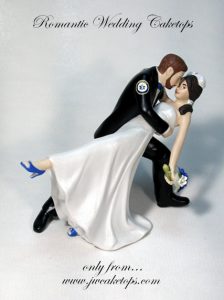 JW Cake tops provides many uniform wedding toppers including First Responders such as Firefighters, Police, EMT, Doctors and Nurses. This beautiful figurine features a groom wearing his EMT uniform while dancing with his nurse bride.  Personalized with their skin tones, hair, flower colors, facial hair, and shoe colors.  Sure to be the talk of your wedding celebration!
https://jwcaketops.com/medical-emt/
Romantic Dip EMT Groom with Nurse Bride Wedding Cake Topper can be located in the "Medical & EMT"  category.